Portfolio
---
Launch Date
December 17, 2020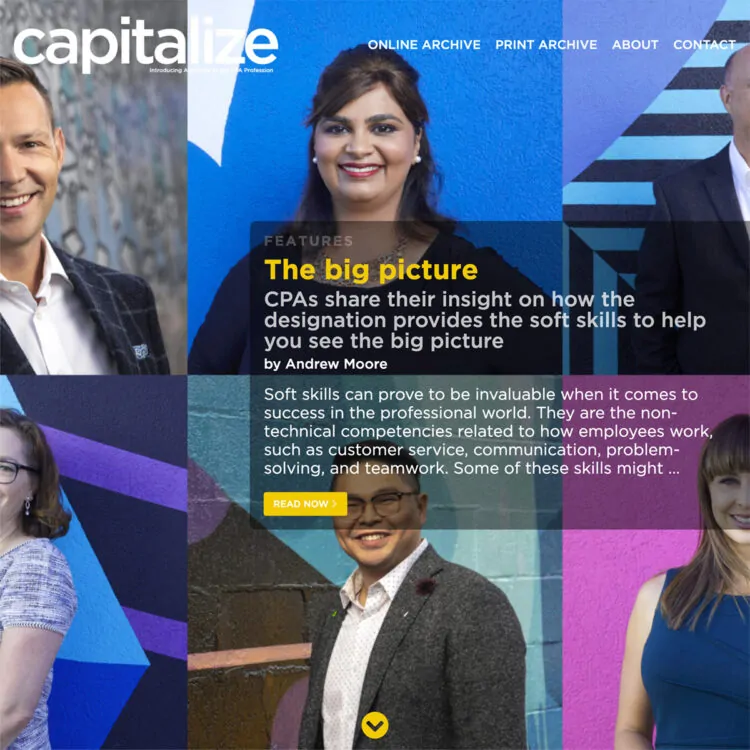 Client Brief
Capitalize is the go-to source for Albertans to learn more about the accounting profession and broader career-related topics and issues. Capitalize profiles some of the best and brightest Alberta CPAs, discusses the latest in business and finance, and highlights the value of the CPA designation. The biannual print magazine has been distributed to university and college campuses, high schools, career counselling and student centres, and student groups since 2013. In 2020, CPA Alberta wanted to create a companion online publication as well, with a goal not only to offer the content from the print publication in a digital format, but also to supplement the print issues with additional content throughout the year.
---
Project Scope
The communications team at CPA Alberta was very open to letting me run with my own vision and ideas for how to translate the concept and experience of a print magazine into an online format using WordPress. I wanted to create something with a similar level of visual impact and vibrancy. To that end, I consciously tried to step outside the box and do something unique and completely different from the typical "white background, black text, one accent colour" presentation. I aimed to put the publication's consistently engaging photography at the forefront of my design, as well as to make use of the entire diverse colour palette provided by the organization's branding guidelines. This was also my first full foray into using the Gutenberg block editor and ACF custom blocks to build out content and create reusable modular design elements.
---
Technical Specs
WordPress (using Gutenberg)
Bootstrap Development Framework (version 4)
Advanced Custom Fields Pro
Bootstrap Blocks
---
Client Testimonial
Kasia was great to work with! She really listened to what we were looking for, took the time to familiarize herself with our publication, and built a website for our team that is as beautiful as it is functional. She was also available for any questions, and I didn't hesitate to reach out when we needed a little update to the website. I hope to be able to work with her again one day!