Portfolio
---
Launch Date
September 30, 2013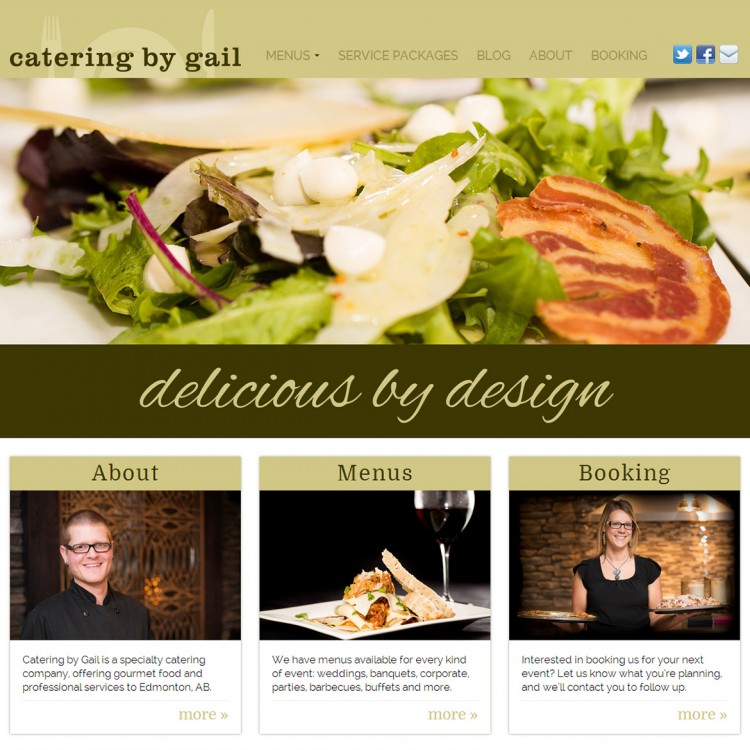 Client Brief
Catering by Gail is a specialty catering company, offering gourmet food and professional services to Edmonton and surrounding communities. CBG caters to any facility, specializing in receptions, corporate functions, banquets, buffets, barbecues, weddings, parties and celebrations. They were looking for an elegant, easy-to-use website with mobile responsive capabilities that featured their beautiful food and experienced Chef prominently, and that would make it easy to maintain their extensive menu selections.
---
Project Scope
Create a custom mobile-responsive WordPress theme. Integrate visual identity, branding elements, photos and written copy provided by the client. Install, configure and customize plug-ins and theme functions to support custom post types for home page slider, catering menus and custom database queries. Integrate social media profiles into the site. Provide ongoing technical support as needed.
---
Technical Specs
WordPress
Bootstrap Development Framework
Contact Form 7 plug-in to support web forms for Booking Inquiries
Disqus plug-in to support comments and discussion
PS Taxonomy Expander to support additional functions for menus
Types plug-in to support home page slider and organization of menus
---
Client Testimonial
Kasia and Code Word Media Design took an old, out dated, hard to navigate website – that we inherited from the previous owner – and created a fresh, user friendly, current and relatable website. She met with us and took our concept of how we wanted to be interpreted online – and thoroughly created an online persona that we are proud to call our own. Kasia is very attentive to her clients and made us feel important and priority. We get compliments on our website all the time, and couldn't be more pleased with her work. Thank you Kasia and Code Word!