Portfolio
---
Launch Date
February 26, 2014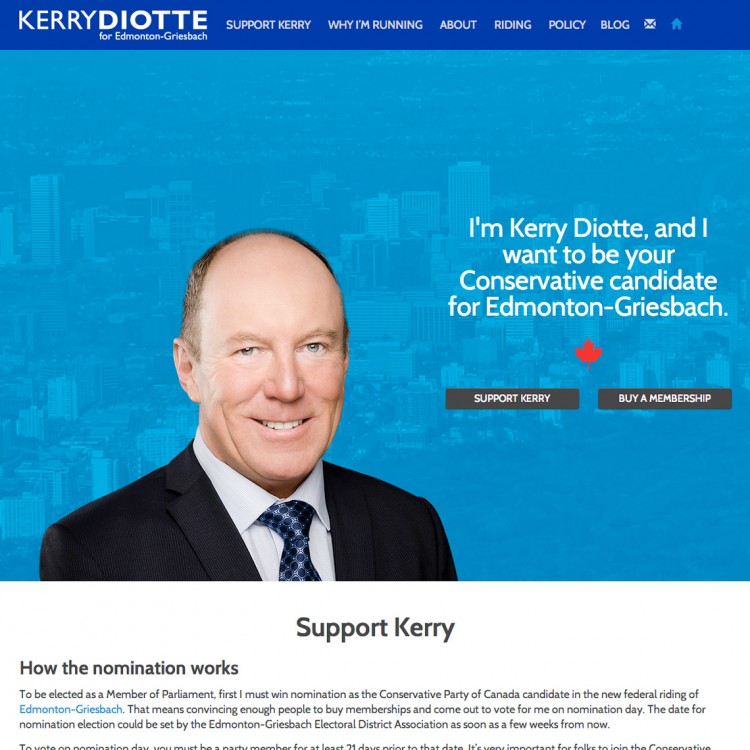 Client Brief
Former Edmonton City Councillor Kerry Diotte earned a reputation during his tenure as a fiscal watchdog who is extremely engaged with his constituents through his website and social media profiles. Kerry ran for mayor in the October 2013 election. Prior to entering politics, Kerry was a journalist and popular civic issues columnist with the Edmonton Sun.  He sought and won the Conservative nomination in the new riding of Edmonton-Griesbach for the Canadian federal election in October 2015. Kerry's campaign was successful and he became the elected Member of Parliament for the riding. He wanted his website to be simple, accessible, polished, well-organized, content-focused, easy to maintain and mobile-responsive with clear calls to action.
---
Project Scope
Create a custom mobile-responsive WordPress theme with jQuery support for "one-page scrolling" home page design concept. Integrate visual identity and branding elements provided by the client. Import  content from a pre-existing separate WordPress installation and migrate website to a new server. Install, configure and customize plug-ins and theme functions to support blogging, custom database queries, photo and video content, archives, and database management for supporters. Simplify and improve content organizational and navigation structure. Integrate social media profiles prominently into the site. Train and assist other members of the client's communications team to maintain the website. Continually add and tweak website elements on-demand to the needs of the campaign. Design and prep informational campaign materials, such as brochures, business cards, etc. for print and the web.
---
Technical Specs
WordPress
Bootstrap Development Framework
Disqus plug-in to support comments and discussion
MailPoet Newsletters plug-in to support custom-branded e-mail newsletter subscription and broadcast
Participants Database plug-in to enable database management of constituents, volunteers and donors, as well as on-site sign-up. Integration of PayPal API with Participants Database to enable donation website application.
Smart YouTube Pro plug-in to support responsive embedded YouTube content
Types plug-in to support custom post types for various content streams, such as News Articles and Endorsements
---
Client Testimonial
Kasia is a whiz. I highly recommend her as a top-notch web designer. She has a great eye for design, is quick to do quality work, responsive to messages and gives her all to projects. I recently won the nomination as the federal Conservative candidate in the new riding of Edmonton-Griesbach and she designed a killer site for me. The site gets praise all the time from other would-be politicians, current politicians and public relations people because it looks great and is easy to use. I tell everyone I know that Kasia is a huge talent.