Portfolio
---
Launch Date
November 30, 2013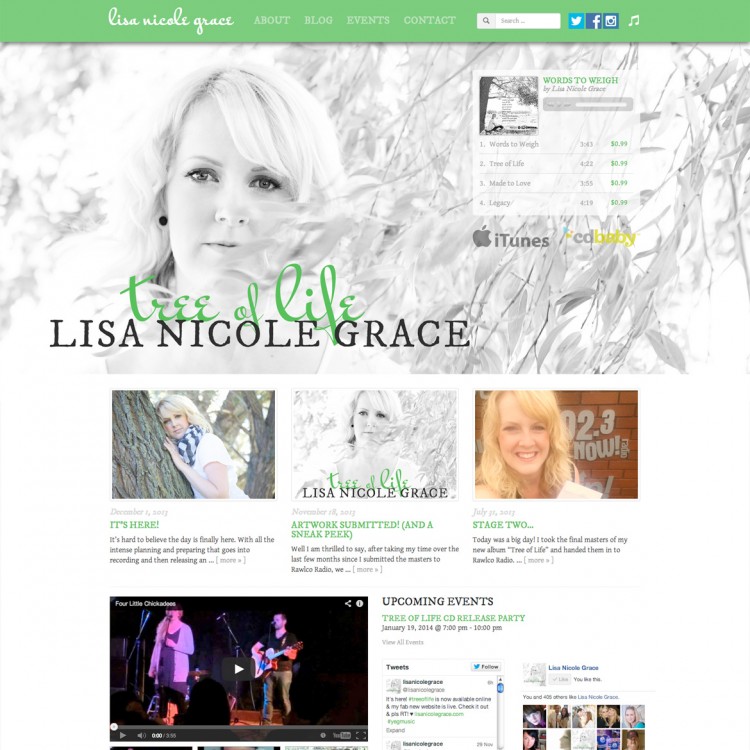 Client Brief
Lisa Nicole Grace is an independent Edmonton singer/songwriter. Her music draws roots from folk, with elements of pop and country. She released her first full-length album, Prairie Belle, in the fall of 2011. Prairie Belle was nominated for "Pop Album of the Year" at the Edmonton music awards in 2012. She followed that up with her second full-length album, Tree of Life, in November 2013.
---
Project Scope
Create a custom-designed WordPress theme with responsive capabilities for a range of web access points (mobile, tablet and desktop display). Integrate a jQuery-based streaming music player plugin with customized styling to preview Lisa's songs on all platforms, including iOS. Integrate and customize an Events plugin to keep track of Lisa's upcoming shows. Integrate Lisa's social media presence into the website. Provide domain/hosting technical support and ongoing maintenance as required.
Create fold-out style CD Packaging designs using photos and copy provided by the client, based on standardized templates. Perform some minor editing and manipulation of images using Photoshop.
---
Technical Specs
WordPress
Bootstrap Development Framework
Contact Form 7 plug-in to support e-mail contact form
Disqus plug-in to support comments and discussion
HTML5 jQuery Audio Player plug-in to support streaming music player
NextGEN Gallery plug-in to support photo galleries
Smart YouTube Pro plug-in to support mobile-responsive embedded YouTube videos
The Events Calendar plug-in to manage shows & events
YouTube Channel Gallery plug-in to support dynamic YouTube video stream
---
Client Testimonial
After two years of pouring my heart and soul into recording my first full length record, I needed to find someone who I could trust to create a design for my website and cd packaging. I needed to find someone who would take this precious project of mine and interpret how I wanted to present myself. Kasia took my scattered notes, the ideas and hopes I tried to express to her and to put it quite simply, read my mind. I could not be more blissfully happy with her work. She is extremely enthusiastic, passionate and attentive to every detail. I recommend CodeWord Media Design to anyone and everyone I know looking for a dedicated, incredibly creative and professional designer. Thank you Kasia!