Portfolio
---
Launch Date
September 25, 2013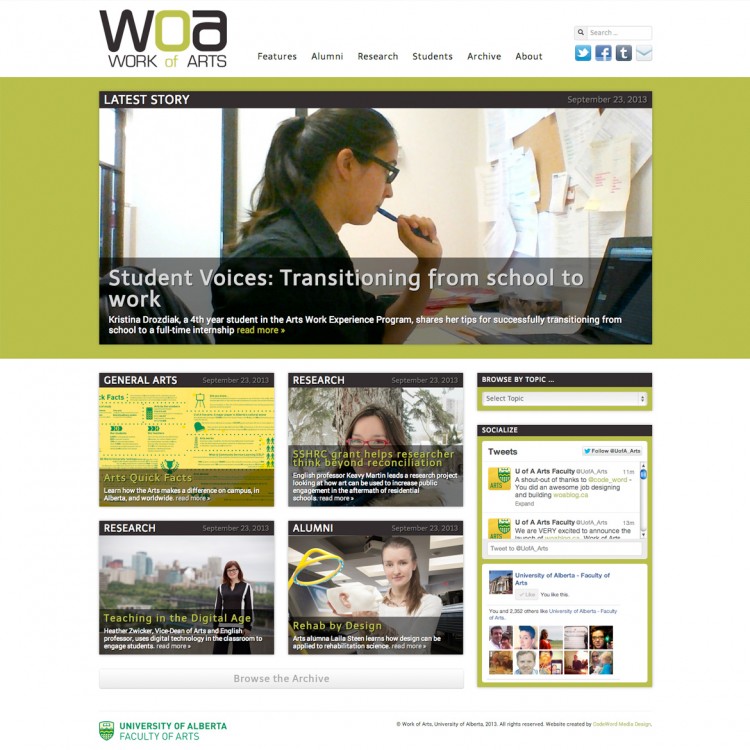 Client Brief
Work of Arts is the University of Alberta's official Faculty of Arts magazine, the source for up-to-date news about students, researchers and teachers, as well as stories about U of A Arts alumni. The Work of Arts project team was looking to transition their print magazine into a blog-based format that could showcase more stories, more often. They wanted to stick with something clean, simple and in-line with their existing branding standards that was mobile responsive and easy to read.
---
Project Scope
Create a custom-designed WordPress theme with responsive design capabilities for a range of web access points (mobile, tablet and desktop display). Integrate visual identity and branding elements provided by the client. Install, configure and customize plug-ins and theme functions to support "magazine-style" blogging, custom database queries, photo and video content, and topic archives. Integrate social media profiles into the site. Provide in-depth training to the project team on maintaining the website. Provide ongoing technical support as needed.
---
Technical Specs
WordPress
Bootstrap Development Framework
Disqus plug-in to support comments and discussion
NextGEN Gallery plug-in to support photo galleries
Smart YouTube Pro to support mobile-responsive embedded YouTube videos
Taxonomy DropDown plug-in to support drop-down navigation with Tags
Types plug-in to support custom field groups
---
Client Testimonial
I had the pleasure of working with Kasia when she created a custom online magazine/blog design titled Work of Arts for the Faculty of Arts. I was very impressed with how thoroughly she understood the scope of the project, as well as her ability to anticipate any needs and issues that we might have. I particularly valued her insight into blog "best practices" and current trends, which helped ensure that the final design met our goals but could be modified and updated as new technologies emerge.
Kasia is fantastic to work with — she's a consummate professional, is very knowledgeable about web design, and responds quickly to any web problems as they come up. My experience working with Kasia was very smooth and I highly recommend her!
* Please note that as of September 2018, the Work of Arts website has been retired and is no longer being actively updated.