Simple SEO success
---
It's really cool for me to see the effectiveness of simple and basic SEO techniques in action. 6 months ago, I launched a website for Santo's 2 for 1 Pizza & Pasta, a small independent restaurant in Spruce Grove. They wanted to be on the first page of Google results when people in the Edmonton area searched for "Spruce Grove pizza".
At the time, I explained to my client that achieving this ranking could take time. About a month after the website first launched, their site was on page 4 or 5 of search results for "Spruce Grove pizza". Using some of the most basic SEO techniques available, like title tags, alt tags and very minor changes to the copy, I attempted to raise their SEO profile for these key words. Eventually, they slowly climbed onto page 2, and today I see that they are now on page 1!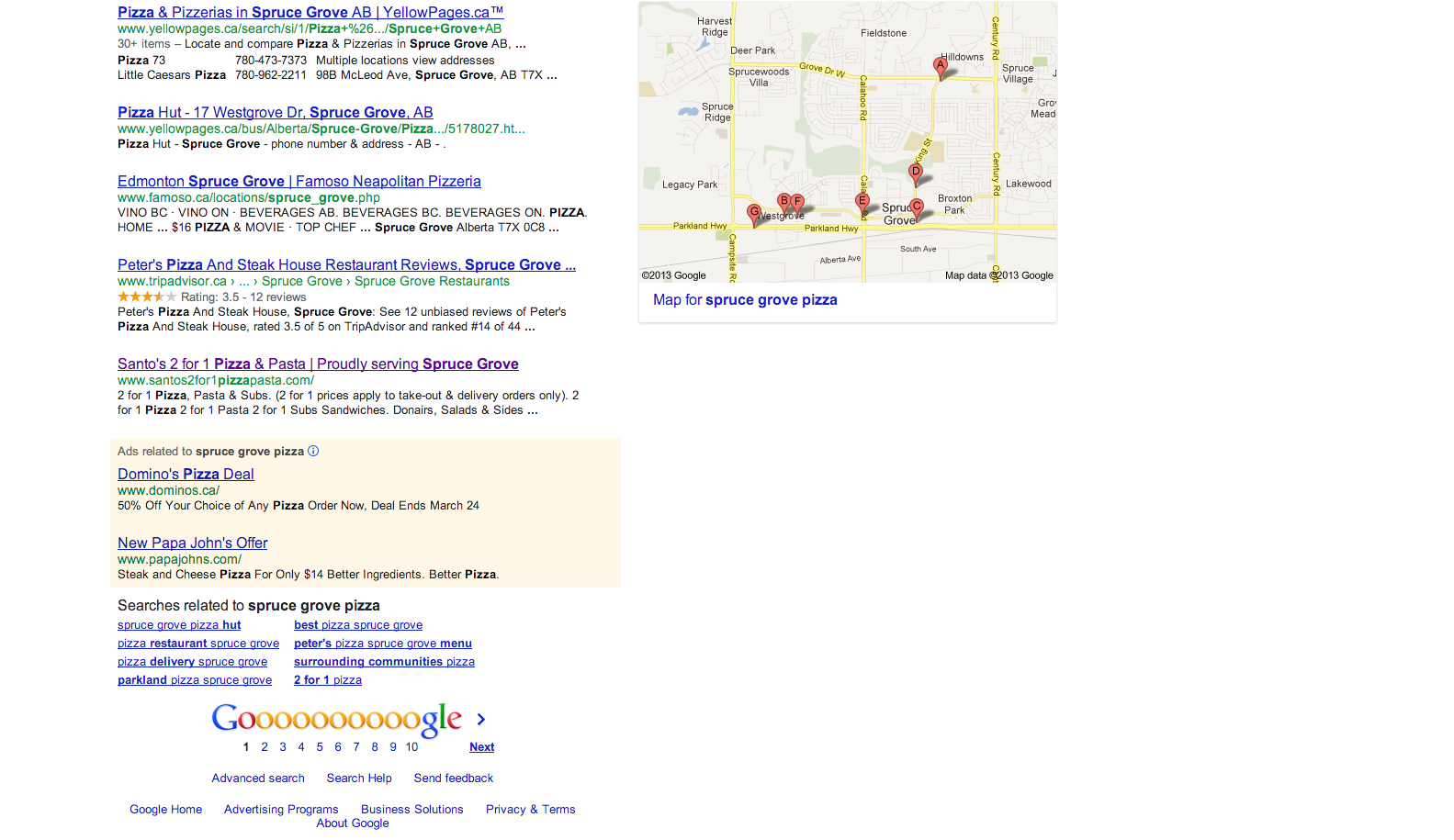 While they are still at the bottom of Page 1 at #10, it is worth pointing out that 3 of the top 10 search results are national or international franchise pizza chains with locations in Spruce Grove (Pizza 73, Panago and Famoso). Very difficult as a small independent to compete with that kind of reach. Further, another 3 of the top 10 results applied to pages on aggregator review and link sites like UrbanSpoon and TripAdvisor. Not surprising that big websites with tons of links will be part of the top 10. 2 more were results from the Yellow Pages website, and one was a list of links from Google Maps.
All in all I am very pleased with the SEO achievement of the Santo's website. They are now the only independent pizza joint in Spruce Grove to turn up on page 1 of Google search results for "Spruce Grove pizza" where the link in the search results is their actual website and not their profile on a bigger site. Congratulations, Santo's! I hope your SEO success translates to plenty more hungry customers.
---